We value our clients' opinions above everything else.
At the end of the day, the most important aspect of our job is ensuring our clients' satisfaction. When a client is happy, that's when we know a job has been done right. Here's what our clients have to say about working with Atlantic Landscapes.
Atlantic's crews perform extraordinary work with care. Bill & Kris are both proactive and responsive. I highly recommend Atlantic Landscapes to anyone seeking a full service landscape contractor.
Jack Q.
As usual Atlantic Landscapes has gone the extra mile to complete the project on time and within budget. Your scheduling, aggressive push to complete, and attention to detail made an accelerated project schedule a bit less stressful for all parties.
Dewson Construction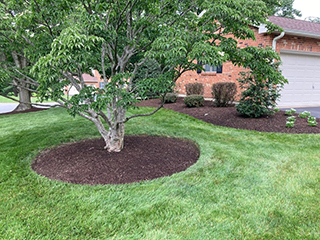 Above is a picture to testify of the beautiful job done by Mariano and his careful, hard-working team.
Jim and Pat L.
Just wanted to reach back out and say thank you! Meg and I are really pleased with the final outcome of the yard. The work you guys did looks phenomenal, and it was a pleasure working with you throughout the process. Thanks again, Kris! Everything looks great. If we do need any more work in the future, we know who to call!

Aaron G.
The detail visit was wonderful, and the men did a beautiful job. I'm so proud of the way things look. Thank you so much for your high-quality work. I really am very happy!
Carol W.
Thanks to you and your crew for the excellent job you did today. The patio and sidewalks look great, and the work they did on excavating, filling, and re-sodding the area affected by the water treatment backwash looks great. Here's hoping that it corrects the problem of the salt leaching to the surface and killing the grass and other vegetation. Atlantic always does great work. Thanks again.
Ken C.
I wanted to let you know that I thought your team was great—so nice, and they worked so hard. It looks really great! We had our dog, Minnie, out today, and I think she really loved being outside and being able to run around without a leash.
Kim N.
The spring cleanup and mulching looks great. The guys worked nonstop into the dinner hour yesterday. They're hard workers!
Rita L.
Everything looks terrific. Your crew did a spectacular job on the cleanup and keeping the house looking terrific.
Steven H.
Landscaping Maintenance
Homeowner
Atlantic has been servicing our business and homes for the last 20 years. These guys are the best of the best. In fact, they are the ones people call to fix the bad jobs other companies do.

They recently tackled a large project at my home. It was not only reasonably priced it was done much quicker and far better than I ever imagined. I would never call anyone else.
Sean H.
Bill, thanks again for taking care of our beach house. It is comforting to know that we can have the same landscaper at home and at the beach. You truly are full service.
Mike R.
Homeowner
Bethany Beach, DE
We are writing this letter on behalf of Atlantic Landscapes and the fabulous staff working for them. We have had a long-term working relationship with Atlantic and utilize their services at many of our shopping centers for landscaping, lawn maintenance, stormwater, pond maintenance, and snow removal.

Their expertise in all areas, pricing, and quality of work are all qualities we value in our line of business.
DSM Real Estate
Just wanted to say "Thank You" to you and the crew for installing the new landscaping. It looks great! We're very pleased and excited! Thanks again for the guidance, visualization, and making it happen!
Craig P.
Just a note to let you know Marco and the guys just left. They did a lovely job with the plants and mulch and noticed the grass seed and straw put down by and the team was eroded by the heavy ran so Marco added some more seed and straw where he saw needed.

Both teams have been wonderful. They are efficient, professional and courteous. You have a great staff and I would highly recommend Atlantic Landscapes to everyone.
Kathleen C.
Kris from Atlantic came out and gave an excellent estimate, the best out of three companies. We hired them to provide a cemented stone border around all of our flower beds. (This was no small task by any means. The flower beds start at the front garage and go down the sides of the house and three additional long beds in the rear).

They worked through the rain and stayed late to get the job done in a timely manner. They even cut the huge stones to make the beds curve and flow. Kris kept great contact with me throughout the rescheduling due to snow and during the project install. Their staff is very courteous, keen attention to detail and extremely talented. Once they were finished, they even planted grass!

They went above and beyond my expectations. Not to mention, the work is beautiful! We are now the pride of our street! I highly recommend contacting Atlantic Landscapes for all of your landscaping needs!
Donna T.
We would like to first thank you for taking on the job. The other companies who came out to look at it either didn't want to do it or only offered a solution that would "Band-Aid" the problem. You made several visits to our home to evaluate the yard under different weather conditions to make sure your solution would work. Our kids have been able to play in the yard for the 1st time in over a year and the dogs aren't muddy.
Dina & Jonathan H.
Bill and Kris are awesome. They are professional guys who know what they are talking about and have the resources to get it done. Everything they have done for me has been spot on.
Mike D.
We have been satisfied Customers of Atlantic Landscapes for nearly 15 years. We love the wide variety of services they offer, the expert advice and the high-quality work from the Atlantic team.
Ann & Ken B.
I want to thank Atlantic for what you have helped me achieve over the past 3 years. The original planting that was installed by another group totally ignored the joint plans we had drawn up. Then we met and not only were you good listeners, but your knowledge of plants, colors, and a sense of balance allow us to have a panorama of color and foilage. You have always met my expectations in a very professional way.
Don C.
My neighbors hate me. My yard is spotless after your guys cleaned it. Too bad for them, good for me!
Frank A.
We have been an Atlantic client for many years and have always been pleased with the services you provide for us. I would recommend Atlantic to anyone looking for a quality landscape contractor.
R&R Property Managers
Bill Gioffre and the staff at Atlantic Landscapes are professional, courteous, and consistently willing to do what it takes to ensure customer satisfaction. I highly recommend their services.
Bank of America
Over the past 2 years the transformation is quite incredible. Your employees are always courteous and they clean up better than me at the end of the day. My only complaint is that I wasn't referred to you years ago.
Steve L.
Can't say enough about the quality of service provided by Kris and his team. Used Kris for a patio and landscaping complete redo. He was creative, responsive, and no ask was ever too much.

What has been most impressive is the 'after care' his team continues to provide. He stands by his work - which can be a rare thing these days. Highly recommend the entire Atlantic crew.
Susan S.
We have been using this company for years to do our yard work for our two houses and they always do an impeccable job! Always on time, they leave the yard looking clean and nice and are very hard workers. Thanks to them, our house looks the best in the neighborhood!
Manda R.
Learn what goes into designing and building these projects.
Experience our exceptional quality, workmanship, and service.
Design & Build