Mid to late spring offers an abundance of stunning and vibrantly colorful flowers popping up all over. There are so many beautiful choices that it can be challenging to determine which plant species work well together when designing your garden. To simplify your gardening this season, we are sharing our top four plant pairings! These favorite floral duos offer complementary benefits like varying depth, harmonious color, and environmental advantages like deterring harmful pests and attracting beneficial pollinators.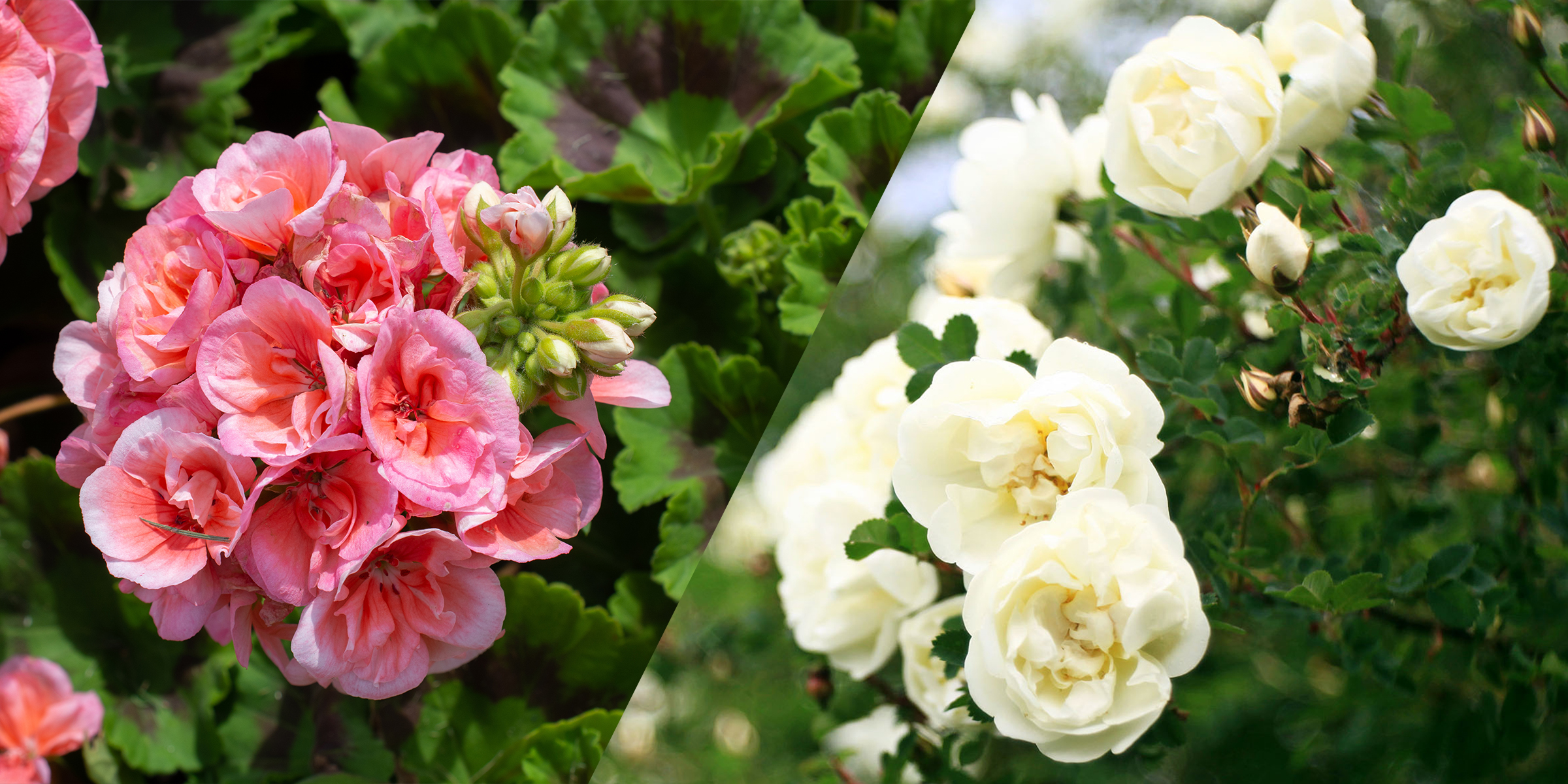 Geraniums & Roses
Roses can be the highlight of any garden; however, their luscious blooms can be difficult to attain because of harmful pests like aphids and beetles that chew holes through the petals. Geraniums are a great companion to roses because they emit a naturally repellent scent to these pests, keeping them away from the roses' delicate buds. As an added benefit, the pelargonium-citronella scented geranium is also the most effective varietal at warding off mosquitos.
Both roses and geraniums come in various colors, so you can mix and match depending on your aesthetic preferences. Geraniums can also fill in between the branches of the rose plant, giving your garden a more lush appearance.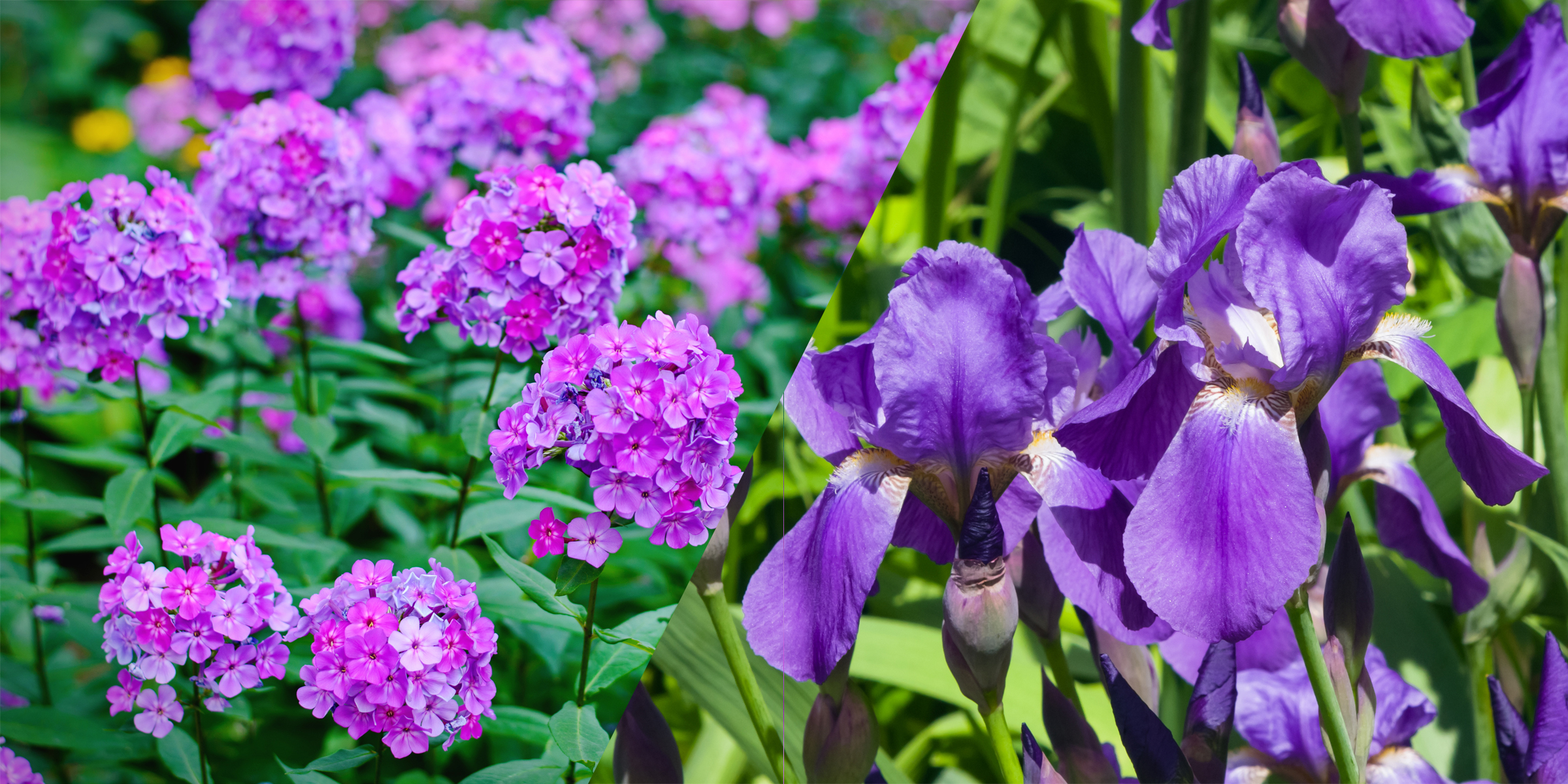 Phlox & Irises
Timing in a garden is everything, and the color flowers bring to your landscape is fleeting. Iris and phlox grow tall (about 2-4 feet), colorful and showy, but they do not bloom simultaneously. Irises appear in mid to late spring. Once their beauty has faded, phlox are soon ready to bloom throughout the rest of the summer. Planting these together means you can maintain color in your landscape for a good portion of the year.
Both plants are perennials and prefer moist, nutrient-rich soil. As a result, they will reliably return every season without any intervention. If you want to keep the same color in the area where you plant these companions, choose plants of similar tones, as seen in the photo above. However, if you want to change things up, you have many color options, especially when it comes to irises.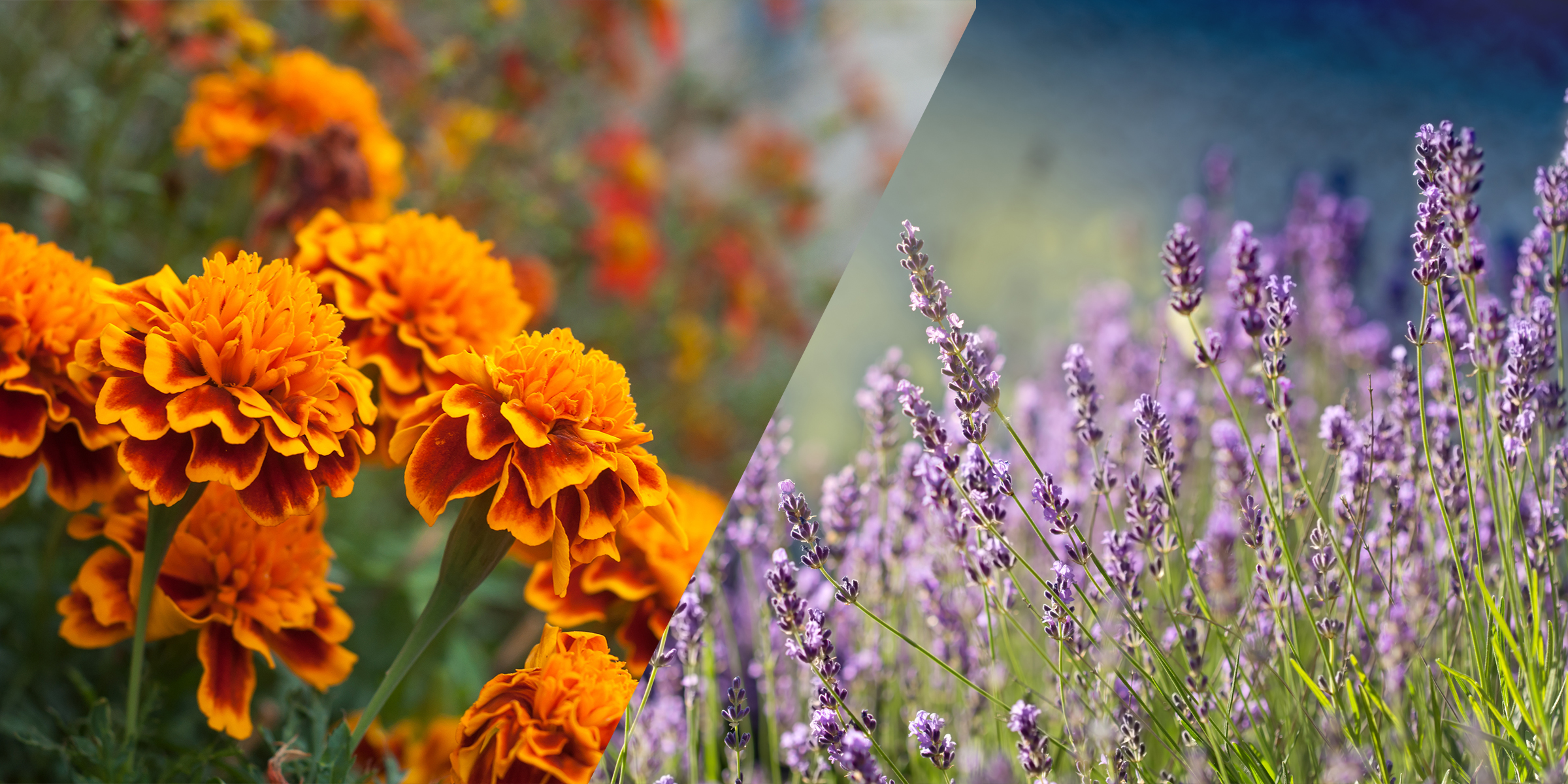 Marigold & Lavender
The complementary colors of the marigold and lavender flowers are not the only reason these plants make a great team. Because marigolds are so effective at repelling pests including aphids and beetles, it allows the delicate purple flowers of the lavender plant to bloom and perfume your garden with their signature scent.
Marigolds and lavender are also drought-tolerant and can work well in areas with insufficient rainfall. In addition, both plants attract beneficial pollinators like honey bees, butterflies, and hummingbirds to your property.
Petunias & Daisies
Both petunias and daisies love the sun and show off their beautiful petals from mid-spring to late fall. This pair works well together because of their difference in height and variety of colors. Daisies grow up to two feet, while petunias work well as ground cover. Choosing complementary colors can really make this pair pop in the garden, highlighting your landscape's depth, greenery, and variety. While daisies are perennials, petunias are classified as "tender perennials." Depending on placement, petunias may return after the winter, but they are usually treated as annuals. This means you can play around with color when you plant in the spring to keep things fresh.
For help planning and planting your landscape, contact us! We can choose plants to highlight your home and make your property stand out all year round.